Our not-for-profit, 100% volunteer-run group works to support the Thunderbird High School students, teachers, administrators, and community.
Headlines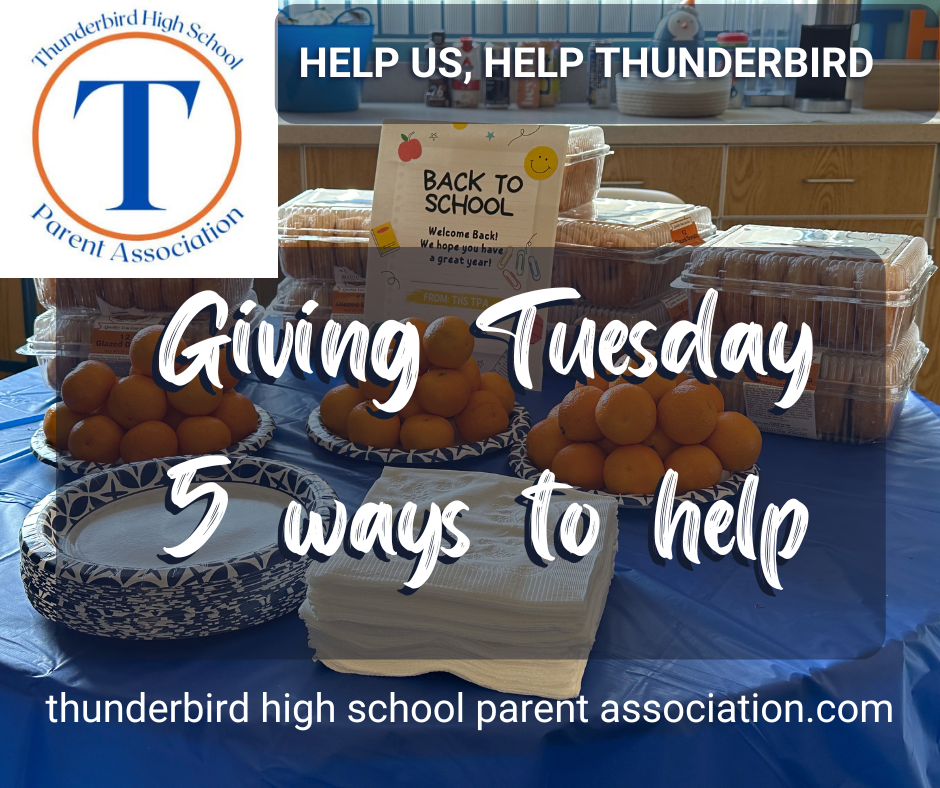 Giving Tuesday!
For Giving Tuesday this year, please donate to our Thunderbird Parent Association. Our 100% volunteer-run not-for-profit organization helps motivate and reward Thunderbird High School students, supports our teachers, and invests in our classrooms and our campus. Here are 5 ways you can give to our community and to our school and two of them don't require your cash.
1 Collect shoes!
Text your family, your friends, and your neighbors right now. Ask them to pull shoes they no longer wear out of their closet for our Thunderbird Parent Association Shoe Drive. Collect the shoes then donate in the Main Office. We receive money for each good quality shoe pair donated, and all the shoes we collect go to communities in need. Cash-free way to donate!
2 Buy event tickets
We host several FUNdraising events that build community and raise the funds we will invest directly into Thunderbird High School. Buy tickets to these events and give them as gifts this season. Everyone wants an experience as a present and no better experience than our fun events. Use the links below to buy tickets.
Auction Party: http://TPAWigGig.givesmart.com
19th Annual Golf Classic: http://e.givesmart.com/events/zXg
Wine & Whiskey Locality Homes (on sale soon)
Casino Night http://Casino2024.givesmart.com
3 Sponsor an Event
Check out our sponsor proposal attached below or email [email protected] to help sponsor an event. We need auction basket items donated like gift cards, services from a business, or special goods that we may place in an auction or Casino Night raffle for our fundraising.
4 Volunteer
We always need help. Commit to joining a monthly TPA meeting (first Monday of the month), help us host one of our events, and volunteer for a Fun Friday. We need help with our projects, and we will need officers for the next school year. Check out volunteer opportunities at https://thunderbirdhighschoolparentassociation.com/volunteer-projects/
5 Donate
Go to one of the Auction Party GiveSmart websites to select a donation option or drop off a check to Thunderbird Parent Association in the Main Office. Every bit helps and we will invest your donation directly into Thunderbird High School.
Download the Sponsorship Proposal here:
Grad Night Tickets on Sale
The TPA hosted Safe and Sober Grad Night Party at Dave and Buster's is THE place to be on graduation night. Our Thunderbird Class of 2024 can party the night away with exclusive, private VIP access to the Desert Ridge Marketplace Dave and Buster's. Unlimited games, food, sodas or water, entertainment, and prizes…..so many prizes to win. Buy your tickets now through 11/25 to take advantage of special Black Friday pricing!
Buy your tickets here: https://pay.thunderbirdhighschoolparentassociation.com/GradNightTicket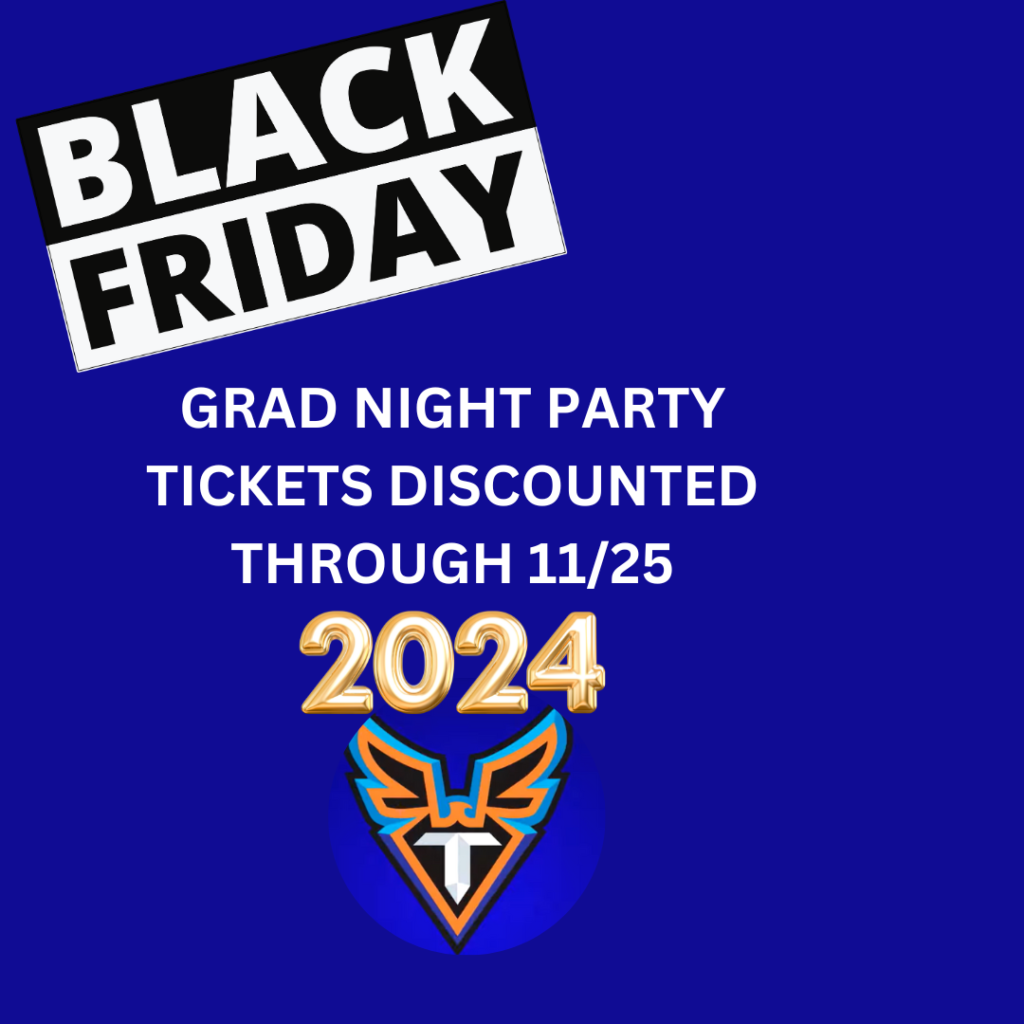 2023-24 TPA Overview
Please review the PDF file for information about our officer and chair positions plus an overview of our 2023-24 school year activities.
We need a Treasurer and we need committee help. Please email [email protected] for more information.
Help us help our school
We won't take over your life and we won't fill your time with drama. Please start by attending a monthly meeting to learn more about what we are doing. Connect with other Thunderbird High parents then see where it goes from there.
Join our email distribution list or ask a question.
We meet once a month, usually the first Monday of the month
1750 W. Thunderbird Road
Phoenix, AZ 85023